Beach House Cargo Lifts
Beach House Cargo Lifts Add Functionality And Safety To Your Home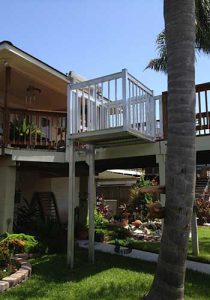 If you live along the coast, many homes are built on pilings. As we get a little older it becomes harder to carry heavy items up or down stairs. If you want convenience and safety… a Galaxy™ Cargo Lift from LiftMasters Gulf Coast is a sure way to make your life a little easier.
Galaxy™ cargo lifts are the only "true stop" technology and are manufactured in Texas with durable stainless steel hardware and welded aluminum construction to last a lifetime. Galaxy lifts are excellent for raised coastal region homes and are routinely used to transport groceries, luggage and even large items such as furniture and refrigerators. Every cargo lift is equipped with a dual mast, dual cable, single motor, remote control, sturdy platform and exceed industry standards for durability, safety and technological efficiency.
Cargo Lift Features-
Manufactured in the USA.

Dual winder and dual cable—with no pulleys—to eliminate cable friction and ensure long life and durability.

Transports up to 1000 lbs.

2 stop and 3 stop cargo lift options.

Simple and easy to use.

Lifts at a rate of 14 feet per minute.

Engineered for indoor and outdoor use.

All welded aluminum construction with Stainless steel hardware.

All units are available as do-it-yourself kits with instructions.

Professional installation by our expert technicians available.