Boat Lift Kits
Boat Lift Kits For Do It Yourself Homeowners.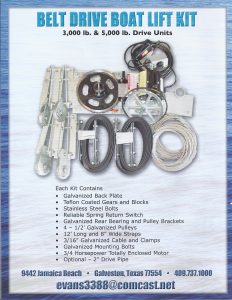 At LiftMasters Gulf Coast we understand that some people like to do their own installations.
We've developed our 3000 & 5000 lb. lift kits with you in mind. Our LiftMaster boat lift kits are designed for a relatively easy setup & installation.
You need to spend a lot your time making sure your measurements are accurate and that your lift is centered in your boat house.
Caution: The person doing the installation is responsible for insuring that the structure (boat house, pilings etc.) is suitable for lifting a boat of your weight and length. Our LiftMaster Boat Lift Kits are easy to install, however if there is any doubt about the operation or capability, we recommend all installations and repairs be done by qualified installers.
Since the installer is responsible for knowing the installation procedure, lift operation & proper maintenance schedule, it is also their responsibility to operate it in a safe manor and instruct others operators about lift safety & procedures.
Call LiftMasters Gulf Coast and let us know about your project. We stock complete boat lift kits.
409-737-1000